Dates/Time
April 22, 2021 11:30 am-2:30 pm
East Bay Community Foundation is excited to announce our first virtual Inclusive Economy Showcase on April 22 (save the date!) that will highlight entrepreneurs of color and community-based companies and organizations who are building and shaping an inclusive economy in our region. We are committed to democratizing the flow of capital into our community. The showcase will prioritize the needs and goals of the founders and there will be educational opportunities for all participants. Every applicant will receive feedback, support, and exposure.
If you're a social entrepreneur, impact or angel investor, fund or foundation manager, or are simply curious about how we can move more money to the social impact companies and organizations solving problems that benefit the East Bay and its community, you'll want to register for this event!
Learn more and register here.
AGENDA :
11:30 AM: Welcome & Kick Off with James W. Head, President & CEO and Valerie Red-Horse Mohl, CFO, East Bay Community Foundation
Introduction and overview of "Impact Investing for Community Foundations" with Val Red-Horse Mohl, CFO, East Bay Community Foundation
Panel Discussion: "Impact Investing: Investing for an Inclusive Economy"
12:15 PM: Inclusive Economy Showcase emceed by Sabrina Wu, Senior Fellow, East Bay Community Foundation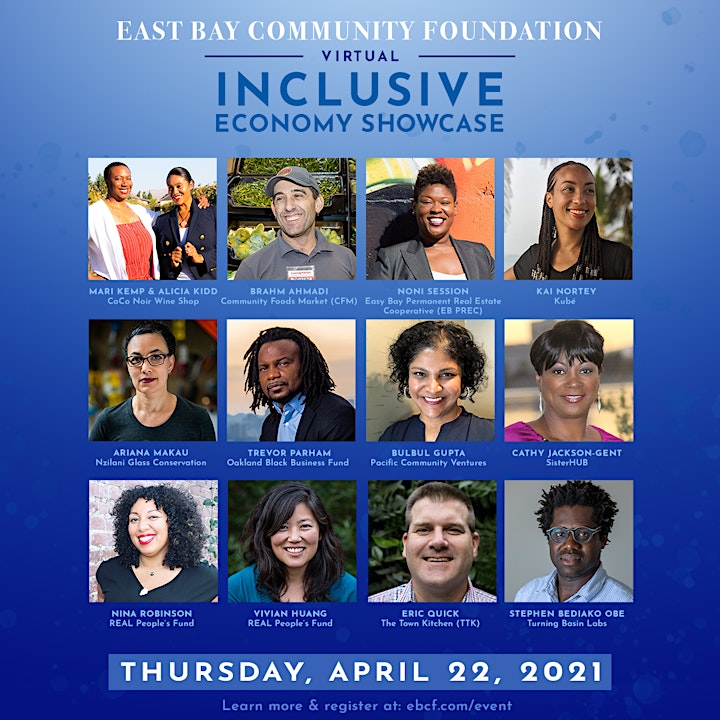 Presenting Social Entrepreneurs*:
2:00 PM: Breakout sessions
2:30 PM: Closing with Val Red-Horse Mohl, CFO, East Bay Community Foundation
***
For the Inclusive Economy Showcase, EBCF will be showcasing outstanding social entrepreneurs who are ready to present and take their social enterprise or organization to the next level. See criteria below:
East Bay-based (or nearby Bay Area), serving the East Bay, social impact for-profit companies, or non-profit organizations seeking investments or loans (note for this showcase we are not reviewing applicants seeking grants – EBCF has several robust programs focused on philanthropic gifts; for more information on those please visit our website: https://www.ebcf.org/)
BIPOC or women-led/founded highly encouraged to apply
Based in and serving BIPOC and priority communities/clients
Already raised some funds and will be raising funds in 2021
In addition to BIPOC, EBCF recognizes that priority communities also include, but are not limited to: undocumented immigrants, the unsheltered, the uninsured, youth, low-income seniors, people employed via the cash economy, victims of domestic violence, LGBTQIA, SSWANA, and people who are formerly incarcerated.
We recognize that it is not the role of external parties to create wealth, power or voice in our priority communities referenced above, because they already exist. Rather external parties should be allies and supporters who seek to shift and transform resources and wealth, elevate and amplify stories, and support power and policy led by those most impacted by these factors.
We look forward to seeing you!